Who may join STARFLEET Medical ?
Answer: 
Any member of STARFLEET International who is in good standing in the organization with an interest and/or expertise in the things we do can join!
To join STARFLEET International simply sign up via this link: https://db.sfi.org/secure/signup.php  
Joining the STARFLEET Medical 
Thank you for your interest in joining STARFLEET Medical.  This is a two first step process; first please complete this form:
Next, please update your affiliations in the STARFLEET International database.
To do this you need to log into the database using your username and password. 
Once there, click on Affiliation status and put tick the box that says Active  as illustrated in the image below: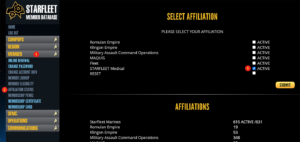 Thank you for joining STARFLEET Medical!
Finally, please remember, members of STARFLEET Medical are individuals who volunteer their time to help SFI regions develop their health promotion/home safety programming and are, also, individuals with great personal leadership skills.   They are always happy to help but please have some patience if they take a short while to reply